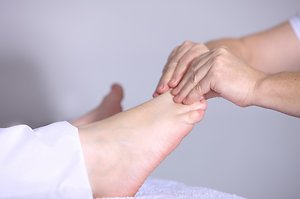 General Health Reflexology
As reflexology can be a very relaxing experience you do not need to have a condition to enjoy reflexology as it provides a wonderful way to de-stress, relax and unwind, this in turn helps improve mood, aid sleep and relieve tension, resulting in an overall sense of wellbeing.

Clinical reflexology is a non-invasive complementary therapy, which works alongside conventional medical care to help the body to re-balance and begin its own healing process. It follows the principle that there are reflexes in the feet that correspond to all the organs and systems of the body. For example, the toes represent the head, and the ball of the foot represents the chest and lung area. Reflexology is a holistic therapy which aims to bring balance to the body and mind; helping to facilitate a deep state of relaxation and calm.
In a research study, reflexology was shown to significantly reduce stress levels, providing "an increased feeling of ease and a reduction in anxiety". It is recognised by the NHS, many GPs and hospices.

Over 75% of all doctors' office visits are for stress related ailments and complaints. The deep relaxation and improved sense of wellbeing can certainly benefit anyone, but may be particularly beneficial to people who suffer from the many emotional, psychological and physical effects stress can cause such as:
• Anxiety and mood disorders
• Sleep disorders
• Digestive problems such as IBS or constipation
• Headaches and migraines
• Muscular tension such as back, shoulder and neck pain
• Hormonal imbalances such as PMS, endometriosis, painful or heavy periods
• Menopausal symptoms
• Fertility problems
• Skin disorders
• High blood pressure

The experience of receiving a reflexology treatment is very restful and enjoyable. Clients have stated that they sleep better, and feel clearer headed and refreshed in the days following the treatment.

''My hour of reflexology gave my mind time to rest and I came away feeling calmer and more able to cope with things.''

At your first reflexology session I will take a detailed medical history. For the treatment you will relax on a padded treatment couch. You can choose from a selection of natural, essential oil blended reflexology balms then your feet will be worked on. Gentle pressure will be applied to specific reflex points on the feet. The sensation should be pleasantly soothing and encourage you to unwind and completely 'switch off', you may even fall asleep.

A series of regular treatments is generally recommended, but if you're interested to know more please contact me.