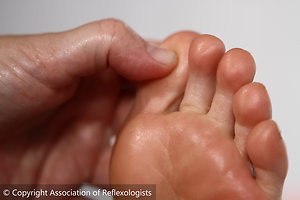 Cancer & Palliative Care
Cancer Care Reflexology
Reflexology may be able to help with a range of ailments, including the reduction of stress, tension and anxiety, stimulation of the lymphatic system, increasing circulation, increased energy and pain management.
As it is a non-invasive form of therapy, it is an alternative to traditional massage for those who prefer to avoid full-body touch. As there is no undressing or repositioning required, it can be ideal for those who are very sick, who can't be moved during treatment or touched in certain places. It could also help to reduce nausea caused by chemotherapy or radiotherapy.

Overall, reflexology is thought to be very helpful for anybody on a cancer journey. It can help to improve a person's quality of life, whilst creating and sustaining an overall sense of wellbeing, which is pivotal for anybody on a healing journey.

Palliative Care Reflexology
Reflexology can offer the therapeutic calming touch to someone in the last stages of life or in the first stages of diagnosis when they are facing the future with fear, anxiety and possibly isolation.

I am aware of the changing needs of a sick person who may be frequently moving into different sitting or lying positions because they are in pain, or may be emotionally upset and become anxious. I am also aware that it may be more appropriate to change from working the feet to the hands or vice versa.