Booking
Reflexology treatments are based on hourly sessions, including a consultation, which usually takes slightly longer on the first appointment, and includes discussing your medical history and planning an individual treatment plan. I can also provide a shorter session for children if required.
I may recommend a treatment plan which could include a number of regular treatments, but this will be subject to your own individual needs.

Gift Vouchers available: - message me for details

To book a treatment with me:
Simply click the email link button or email: info@vickimullinreflexology.co.uk
To send a message or speak to me Text/ Phone: 07840 352913

**Please note that my reply may go into your 'junk' email folder so please check this if you have not received a response - I will endeavour to respond to all enquiries promptly.

"Her treatment room is beautiful - clean, comfortable and relaxing. I would have no doubt in recommending her to others."

Opening Times:
Monday to Friday - 10am: first session of the day, 4pm: final session
Some evenings until 8pm - please enquire.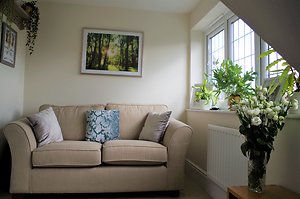 Prices & Information
PRICES:

General Health Reflexology
£40 (50min)

Facial Reflexology
£40 (45min)
£40 Facial Cupping (40min)

Top to Toe
£60 Combined Foot & Face Reflexology (70min)
£60 Combined Foot/Face Reflexology & Facial Cupping (70min)

Basic Reflexology
£20 A 'no frills' quicker session for those on a tighter budget or short of time (25mins)

Reflexology for Children-if requiring a shorter session
£22 (30min)

Fertility Reflexology
£40 for a single client (extra time maybe needed for the initial appointment as this includes a full well-being consultation) £75 for both of you.

Maternity Reflexology
£40 (50min)

Lymph Drainage (RLD)
£40 (50min)
£20 (25min)

Cancer & Palliative Care
£40 (50min)


***Gift Vouchers are available and can be posted out.

Payment Methods: I accept cash and bank transfer as methods of payment.
Cancellation Policy: I require a minimum of 24 hours notice for the cancellation of an appointment, otherwise 50% of the treatment cost may be charged.


Private Healthcare: Westfield, Sovereign Health Care and Bupa now cover reflexology. I am a full member of the Association of Reflexologists and this means my clients may be able to claim for their treatments. If you have a private healthcare policy please contact them directly for full details.

LOCATION:
Saighton Camp
Huntington
Chester CH3


General Data Protection (GDPR) is new legal protection for personal information from May 2018.
If you provide any sensitive medical/health information to me via email, text, phone conversation or social media messenger services, I will only hold and use this if we proceed to treatment, at which time I will require explicit consent from you to hold this data. If we do not proceed to treatment I will securely destroy all information sent.

All reflexology clients will be required to read and sign a Privacy Notice under the new GDPR guidelines. This notice will be issued at your treatment.
In order to give professional reflexology treatments, I will need to gather and retain information about your health and well-being. I will only use this information for informing reflexology treatments and associated recommendations concerning aspects of health and well-being. This will be discussed in full at an appointment.