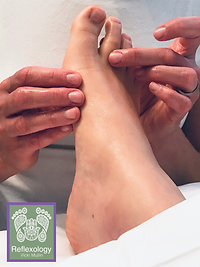 REFLEXOLOGY with VICKI MULLIN: Bespoke Reflexology treatments supporting fertility, maternity and general health. Including Facial Reflexology and Lymphatic Drainage Reflexology techniques- based in Chester
A warm welcome to my website
Are you looking for a more natural way to help support symptoms of anxiety or stress? Or trying to navigate your way through conception, pregnancy or menopause? Maybe you're struggling with a chronic condition such as lymphoedema or arthritis. Perhaps you want to improve overall health and incorporate some well deserved self-care into your schedule? If you've answered yes to any of these questions then you've come to the right place.

My name is Vicki, I'm an experienced, Level 5 Clinical Reflexologist based in Chester, Cheshire. I'm trained to work on the feet, face and hands and have additional training in Reflexology Lymph Drainage (RLD), Fertility & Maternity Reflexology, Face Reflexology, AromaReflex, Facial Cupping and Cancer and Palliative Care Reflexology.

Reflexology is a non-invasive complementary therapy involving gentle pressure to specific points on the feet, face or hands, and is suitable for all ages. Reflexology can be enjoyed as a one-off treatment or incorporated as part of your regular routine to enjoy its maximum benefits.

I tailor my treatments so that they bring maximum benefits to your life, whether you have a specific health problem, illness or simply wish to enjoy the best possible levels of energy and wellbeing.

Some areas that reflexology can support include:
• Stress and anxiety
• Sleep problems
• Lymph drainage for Lymphoedema & Auto-immune Disorders
• Digestive problems
• Fertility problems
• Maternity/ Pregnancy
• Hormonal imbalances such as PMS, irregular, painful or heavy periods
• Menopausal Symptoms
• Headaches and migraines
• Muscular tension
• Auto-immune Disorders
• Skin rejuvination with Face Reflexology & Facial Cupping


"Vicki's treatment room is such a tranquil place that you can't help but relax and unwind."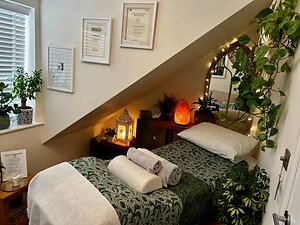 Enjoy an hour of deep relaxation in my cosy, private and well-equipped treatment room where I will provide you with a warm, relaxing and sensory experience, with ambient lighting, heated bed, soft blankets and optional essential oils, soothing music and eye pillow - all away from the stresses of everyday life.
Based in my own home, it is only a mile outside the centre of Chester and with easy parking. I am also within close access to A55 - so also convenient if travelling from the Wrexham area.

"Vicki is a very caring and intuitive practitioner who listened to me and made a real difference to my wellbeing."

About me: My Qualifications and Training:
As a passionate advocate of holistic therapies, and as a way of supporting my own and my family's health, I decided to go one step further and train as a reflexologist. Through extensive training I'm qualified to work on the feet, face and hands, and with all ages.
It is important that you visit a therapist who is properly qualified and insured.

As a clinical reflexologist, I have studied to the highest level available in the UK, gaining a Level 5 Mastership in Clinical Reflexology. I have advanced knowledge of reflexology with anatomy and physiology, providing me with a wide understanding of conditions and ailments.
I also have advanced training in Reflexology Lymph Drainage (RLD) with Sally Kay; a technique which focuses on reducing lymphoedema, and Facial Reflexology with Ziggie Bergman - both award winning techniques.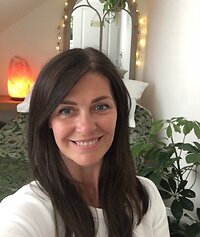 My training includes:
• Level 5 Diploma in Practitioner Reflexology: Centralia Reflexology Mastership at Gaia School of Natural Health.
• Reflexology Lymph drainage (RLD) with Sally Kay at The Christie Integrative Therapies Training Unit
• Advanced training in Facial Reflexology (including Facial Cupping and Indian Head Massage) with Ziggie Bergman at London School of Reflexology
• Advanced training in Maternity and Reproductive Health
• Palliative & Cancer Care
• NEPIP
• Aromareflex - using essential oils during treatments
• Anatomy, Physiology & Pathology for Reflexology
• BEd Biology (Hons)

**I continue to keep my reflexologist skills and knowledge up to date by attending regular continuing professional development courses.

Membership of Professional Organisations:
I am a fully approved and insured member of the following organisations:
• Association of Reflexologists (AOR)
• Complementary & Natural Healthcare Council (CNHC)

I believe the extensive training I have undertaken as a Reflexologist, along with my interest and passion in what I do, ensures my clients receive the best possible treatments, delivered to the highest standards.

Hopefully you will find these pages informative and answer some of your questions but if you would like any further information about Reflexology without obligation to book, or If you are looking for a reflexologist in the Chester area, or within easy reach of Wrexham, please give me a call or message me :
info@vickimullinreflexology.co.uk, or call/text me on 07840 352913

Warmest wishes,
Vicki Mullin CRM5, MAR

Reflexologist for Chester & Wrexham. Supporting you and your wellbeing through life's many challenges - from the stress and anxiety created by modern day life to your fertility and maternity journeys right through to the menopause and beyond x