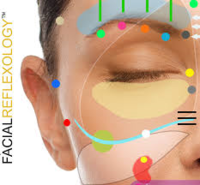 Facial Reflexology & Cupping
Do you consider a facial treatment to be a luxury? An indulgence to be saved for a birthday or Christmas gift, or in preparation for a special occasion when you need to look your best. Should it be this way?
Face Reflexology could improve your overall health and well being, as well as help you achieve that external 'glow' we all desire.

I am delighted to offer this amazing facial treatment to you. This is your opportunity to have some time that is just for you, leaving your body, mind and face feeling rejuvenated and fabulous!

Facial Reflexology delivers all the well-documented health and well-being effects of traditional foot or hand reflexology, but with the exciting added benefit of providing a rejuvenating transformation of your skin.

Facial Reflexology can provide natural skin enhancement, by stimulating blood flow and encouraging lymphatic drainage - leading to a radiant glow. It may also help:
•Relieve the effects of stress
•Release muscle tension to leave the face looking softer and younger
•Benefit those suffering with migraine
•Benefit those suffering with sinusitis, Bells Palsy, and Bruxism (teeth grinding)
•Induce deep relaxation
•Enhance a general sense of well-being.

What is Facial Reflexology?
Facial Reflexology has all the benefits and principles of traditional foot reflexology, but with the added benefit of giving clients smoother, glowing and healthier skin.
It is a soothing treatment where gentle pressure is applied to the reflex points on the face to promote stress relief, a greater sense of well-being and a feeling of calm.



What happens during a Facial Reflexology treatment?
At the beginning of the appointment, just like a feet reflexology session, I complete a consultation with you. This allows me to check for any contra-indications and tailor the treatment for what you need.
After the consultation, you will be made comfortable on the relaxing couch, with the option of cosy blanket and pillow. I then use a warm towel on the face before applying a pre-blended organic facial oil to the face. The cleanser and oils used, enhance the experience of the treatment, nourish the skin and have a soothing fragrance. I only use organic products for my treatments.
Once the oil is applied, I will use a gentle pressure on the different reflex points on the face, and a range of massage techniques. Many clients find the treatment deeply relaxing and achieve a meditative-like state.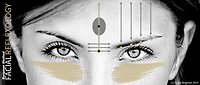 What is Facial Cupping?
Facial Cupping is Ziggie Bergman's unique style of cupping on the face for a glowing complexion and lymphatic drainage. You may have heard about cupping and celebrities with circular bruises on their body, or athletes with red and purple bruises on their back, shoulders and legs but this is a totally different method of cupping.

A small suction cup, like a rubber thimble, is used to glide over the contours of the chin, around the mouth, up the sides of the face and neck. A smaller cup is used around the eye area to provide a gentler suction for this delicate area. It does not hurt and is in fact very relaxing.

This method has sculpting and lymphatic drainage benefits for a natural facelift as well as supporting many conditions such as Bells Palsy, Sinus issues, Migraines, Scars and Headaches.

I can also include the Facial Cupping as an add on to a Reflexology treatment.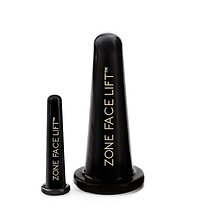 How will I feel following my treatment?
Facial Reflexology and Facial Cupping are both nurturing and deeply relaxing treatments. My clients leave the treatment room with a feeling of inner calm, an improved sense of well-being, as well as a glowing complexion.

At the end of the appointment I will provide you with some self-care advice and tips to continue the benefits of the treatment.

Training
I have undertaken and qualified in the Bergman Zone Method of Advanced Facial Reflexology. I was trained by award-winning Ziggie Bergman ('Facial Reflexologist to the Stars') at the London School of Reflexology, Regent's University. I am fully insured to deliver this treatment to my clients – this course is the only facial reflexology training accredited by the Association of Reflexologists.
The Bergman Method was developed over 20 years ago and based on William Fitzgerald's theory of Zone Therapy.

**Please note: If you have received Botox or Facial Fillers, a treatment cannot go ahead following the three weeks from receiving it. If you have undergone Face Lift surgery, a treatment cannot go ahead until three months after the operation, and six months if there have been any complications/ infections. If you have any questions about this, please do contact me.

Press Articles
HIP AND HEALTHY – The Bergman Method Tried & Tested

GET THE GLOSS – Sarah Vine's Beauty Notes: Life-Changing Finds